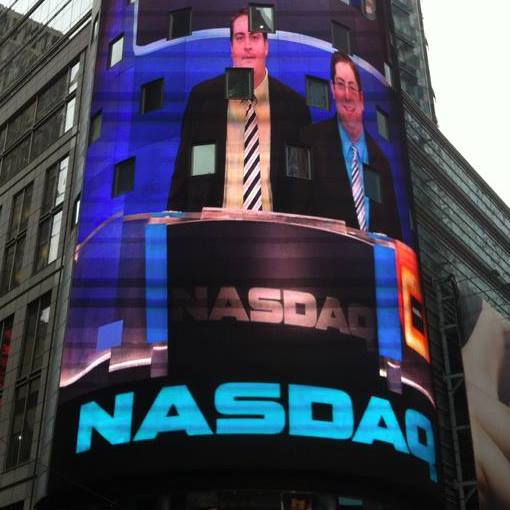 Kevin and Brett Young on the NASDAQ Jumbotron in Time Square NYC ringing the bell.
Who is Kevin
Kevin Young is a website designer, coder, trainer, speaker, entrepreneur, techie, and foodie. He is the Co-Founder, Partner, and Technical Director of RdyToGo – Web Design, Branding, and Marketing.
Young is passionate about systems theory. He is driven to muse over the creation, application, improvement, and design of systems as diverse and wide ranging as technology, business, language, ecology, and civil engineering/urban planning.
Experience
Young was born in Greensburg, PA and lived in Youngwood, PA for the first 27 years of his life, where he began his career as an Assistant to the Educational Technologist at Hempfield Area School District and a non-credit continuing education computer teacher for Hempfield Parks and Recreation. During this time he developed an extensive knowledge of technology, trained staff, and managed many of the school district's complex technology systems.
Education
Mr. Young has his Associates Degree in Computer Science from Westmoreland County Community College in Youngwood, PA, as well as, various other certificates and diplomas, such as a diploma in Computer and Information Science from the Central Westmoreland Career and Technology Center. Mr. Young excelled at both school's computer science programs and assisted his instructors in many of their computer classes.
Entrepreneurship
In 2008, Mr. Young moved to Myrtle Beach, SC where he later co-founded RdyToGo and developed its various services, including Meteor Forms, Firebolt and Pro-How. Additionally, he and co-founder Brett Young manage the day-to-day operations of the company's two locations in Myrtle Beach, SC, and Jacksonville, FL.
Community Contributions
Mr. Young co-organizes the Myrtle Beach WordPress Meetup and organizes the Myrtle Beach Vue JavaScript Meetup. Every three weeks he hosts each meetup and ensures that the high quality of the educational content shared.